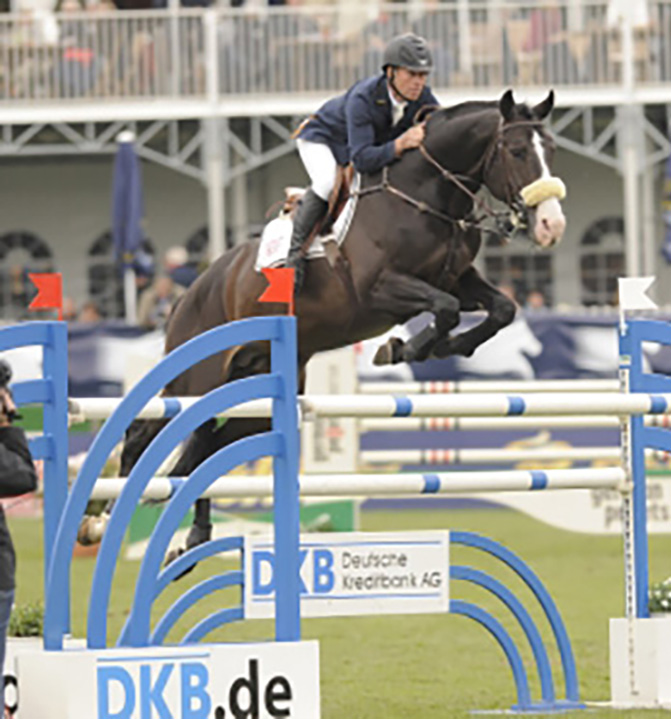 Performances
Stallion testing: Total Index 144 points (best jumping stallion)
WINNER CSI5* Paris Gucci Challenge (x3), Zurich & Geneva (Rolf-Goran Bengtsson)
WINNER CSI5* Nations Cup Final Barcelona
6th World Cup Final Goteborg 2013
WBFSH Jumping Horses: 69 ranking (2011), 77 ranking (2009 & 2010)
2nd CSI5* Paris Le Saut Hermes & CSI4* Braunschweig
3rd CSI5* Stuttgart, Bordeaux, Goteborg, s'Hertogenbosch & Geneva
Produits
#32 WBFSH Jumping sires 2019
QUE GUAPO, TOP PRICE 2007 Holsteiner Stallion Auctions 250 000€
BREITLING LS, 1m60 & Winner CSI5* Hickstead
1m60: QUINTANA ROO, QUIROSA, QUIBELL 5 (Henrik v. Eckermann), VALUTA S, MARACA LS, QUINTO, QUIN AIR, QUIBEL S, QUINTO, QUINTA 74, QUIKSTEP, QUANTUS, QUINTOR
ABSOLUT ALLEGRO, CIC3*
Quintero est le premier fils prodigue de Quantum, lui-même un alliage savant de légendes françaises (Quidam, Cor de la Bryere). Sa mère Ibara est par Chamonix qui jouit d'une carrière de reproducteur outre-Atlantique. En troisième génération côté maternel on retrouve l'inégalable Calando I, réputé pour son mental et son esprit de compétition qu'il a prouvé sur de nombreux circuits. Calando est notamment père de Cagliostro, Coolman V, Careful et Lamalushi.
Quintero a su s'imposer comme reproducteur,
autant pour le sport que pour l'élevage. Les
produits
étonnent avec une ligne de dos
puissante et de très bonnes allures. Il incarne
une nouvelle génération
d'Holsteiners avec un
modèle plus proche du sang. La descendance
est volontaire, souple et énergique,
sans pour
autant perdre le caractère équilibré apprécié
par les cavaliers. Ses qualités font de lui aussi
un reproducteur intéressant pour le CCE.
Quintero alias Kiki est un étalon adorable, il
adore qu'on s'occupe de lui.
Quintero Ask (La Silla)
Holsteiner, 1998, 171 cm
Approved for: SF, Holst, Z, AES, Old, ISH.
Stationné chez : The Stallion Company, Averton (53), France
Propriétaire : The Stallion Company
Conditions : 50/50 : 1100€ HT payable en deux fois garantie poulain vivant inclus ; Ou 1200€ HT à la naissance. Des frais techniques s'appliquent.
Quantum
Quidam de Revel
Jalisco B
Dirka
Ulla V
Cor de la Bryere
Ella
Ibara
Chamonix
Calleto II
Darau
S-Copacabana
Calando I
Faszination