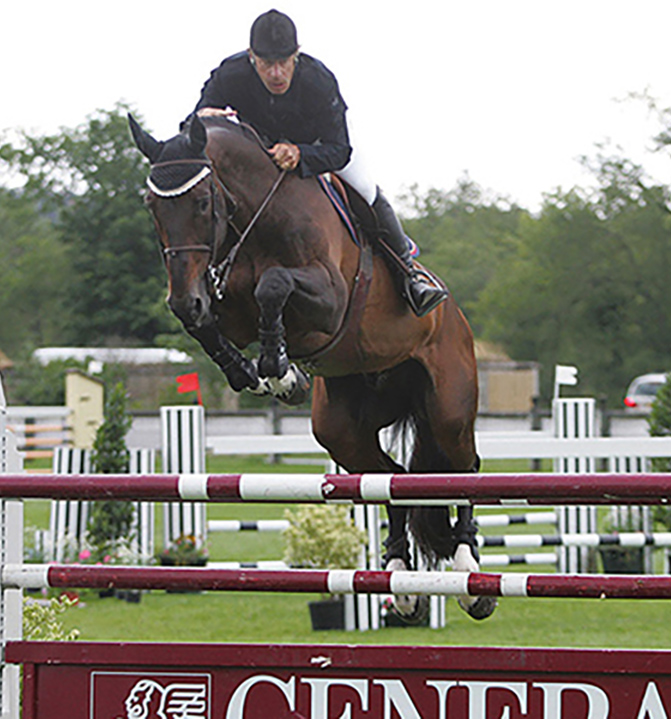 Performances
Champion de France 2005
WINNER Nations Cup Lisbon & La Baule (Michel Hécart)
WINNER CSI-W Paris-Bercy
WINNER CSI3* Jardy, Deauville & Chantilly
Participation European Championships San Patrignano 2005
13th, World Championships 7 year-old Lanaken
Produits
5th ranked WBFSH Jumping Sires 2016
OH D'EOLE, German Championship 2012 (Marc Bettinger)
NINO DES BUISSONETS, GOLD MEDAL Olympic Games London 2012 (Steve Guerdat)
A PIKACHU DE MUZE, World 6 year-old Champion (Gregory Whatelet)
QUANNAN R, WINNER CSI4* Fontainebleau (Marc Bettinger)
QUORIOSO PRE NOIR, WINNER Nations Cup Drammen 2013 (Timothée Anciaume)
PAILLE DE LA ROQUE, World Champion 2015
MOLLY MALONE, 1m60 (Bertram Allen)
LADRO DI CUORI DI CA'SAN, 3rd Championnat de France 6 year-old (Eric Navet)
Que dire de plus sur Kannan qui n'ait pas déjà été dit ? Classé deuxième meilleur reproducteur de CSO en 2015 a quelques points derrière le premier, Kannan voit sa descendance conquérir le monde des compétitions étoilés un peu plus chaque jour. En raison de la qualité de ses produits, Kannan semble destiné à conserver sa place au Top10 mondial encore une bonne décennie. Sur le plan génétique,
Kannan
multiplie les chefs de race dans son pedigree
avec Voltaire, Nimmerdor et Le Mexico.
Kannan semble convenir à la grande majorité
des juments en apportant le galop, la force,
et une bouche
superbe. Ses produits sont
volontaires, talentueux, réactifs et appréciés
sur les circuits du monde entier.
Si vous
n'avez pas encore utilisé Kannan, il est grand
temps de le faire en 2018 !
Kannan
KWPN, 1992, 172 cm
Approuvé pour: Tous les studbooks courants
Propriétaire: The Stallion Company

Breeding fee : €2500 + VAT and shipping, live foal guarantee included.
Conditions : En France, cet étalon est distribué par Groupe France Elevage.
Voltaire
Furioso II
Furioso
Dame De Ranville
Gogo Moeve
Gotthard
Mosaik
Cemeta
Nimmerdor
Farn
Ramonaa
Wozieta
Le Mexico
Roreita